8020365 PODCAST - Episode 72 "ITS NOT FOR EVERYONE, BUT IT IS FOR EVERYONE"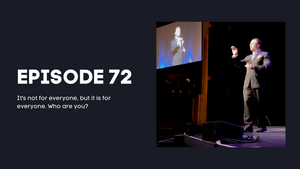 Today's episode is challenging. It's not for everyone, but it is for everyone. Who are you? Listen, now. 
Listen to the podcast on Apple iTunes or Spotify.
Video was recorded from a live webcast, please excuse the low video quality.
Leave a comment
Comments will be approved before showing up.