8020365 PODCAST - Episode 16 "Planning your first year"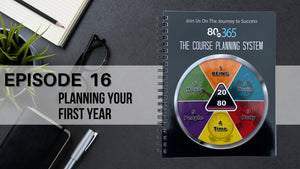 Welcome to "Living Your Life Well Planned" 80 20 365. And on today's show Adam Vincent Gilmer introduces you to "Planning your first year." Make sure you have listened to or reviewed the previous episodes and again we highly recommend that you have purchased your very own "Daily Planner" from Adam's website so you can get the most out of these free podcasts. After listening to the previous episodes, you now have an understanding of the "Wheel of Life" what balance in your life is really all about and you should have defined your "Purpose Statement." With this preparation in hand it's now time for "Planning your first year." This is where 80 20 365 gets exciting and life changing. Remember, come back every week for a new episode or watch the videos on Adam's website 8020365.com. And tell the people you love in your life to join the free program with you. It's simple and easy and life changing for the better.
Listen to the podcast on Apple iTunes or Spotify.
Video was recorded from a live webcast, please excuse the low video quality.
Leave a comment
Comments will be approved before showing up.